What's new?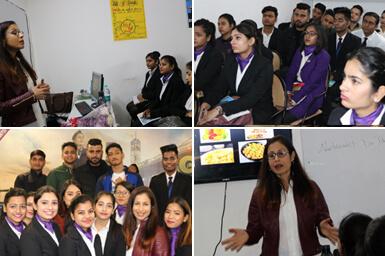 Session on Healthy Lifestyle
To emphasize on the importance of healthy eating and healthy living, Aptech Aviation Academy organised a grooming session on 'Unlock the Power of Nutrition' by Dr. Pallawi Aga, a celebrated nutritionist and lifestyle consultant. The session on healthy lifestyle included discussions about small and big changes that the students can bring in their lifestyle for a positive impact on their personality.
Dr. Aga has a clinical experience for over 20 years, and has been awarded with the 'Best Nutritionist Award 2018' at the 14th Annual International Hospitality India and Travel Awards. She was listed among the 51 most influential women in Delhi NCR, by the Brij Bhoomi Foundation. She was also awarded with the 'Face of the Year' award in the field of Health and wellness by Mahila Prashikshan Sansthan.