courses
Aptech Certified Professional in Ground Staff & Hospitality
This course prepares you for a range of job roles in airports, airlines and hotels.
With the exceptional growth in the number of tourists visiting India every year, a qualified professional has huge employment opportunities. By 2028, there will be over 3.3 crore jobs in the travel and tourism industry.** This includes employment by hotels, airlines, travel companies and other passenger transportation services.
With Aptech Certified Professional in Ground Staff and Hospitality, you can prepare for a range of in-demand careers.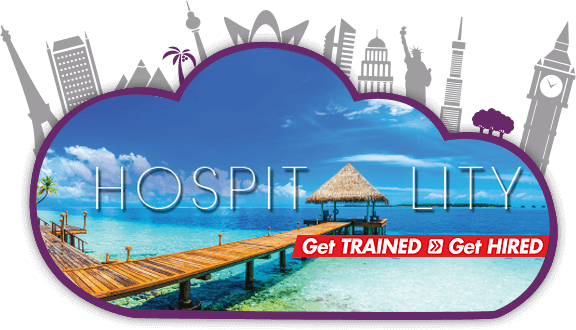 Course Duration: 6 Months*
| | | |
| --- | --- | --- |
| | Course covers | |
With Aptech Certified Professional in Ground Staff and Hospitality course, you will develop an understanding of various aspects of the aviation industry, as well as build a strong foundation on the principles governing aviation, passenger and baggage handling.
Airport & aviation operations
Passenger & baggage handling
Travel desk
Travel & tour operations
Fares & ticketing
Computer reservation system
Reservation desk
Guest services
Housekeeping services
Housekeeping management
Accounting
Food counter –services & sales
F&B services
F&B preparation
Hygiene & safety
Advanced English
Business communication
Presentation & communication skills
Grooming skills
Personality development
Customer services
Interview skills
| | | |
| --- | --- | --- |
| | How to join/ eligibility | |
To join this career-building course, you need class 12 or 10+2 in Arts, Science, Commerce or any other field. A 3-year diploma in engineering or other field, from a state board of technical education, is also accepted.
| | | |
| --- | --- | --- |
| | Course Highlights | |
Get in-depth training in most in-demand aspects of hospitality such as F&B management, housekeeping and guest services
Learn the fundamentals of ground staff services such as aviation operations, aircraft & airport basics and passenger & baggage handling
Hone your business communication skills
Get job placement assistance#
Quickly complete the course using fast-track option
| | | |
| --- | --- | --- |
| | Job Roles | |
Reservation Desk Executive
Food and Beverages Service Manager
Facility Management Executive
Ground Support Operations
Airline Customer Service Agent
**Source - WTTC Travel & Tourism Economic Impact 2018 report
#Disclaimer: We do not assure or guarantee any job placement. Placement shall be at sole discretion of the recruiter after undergoing
interview process and meeting their specific requirement of graduation, if any.
*Note: Duration may vary based on course & centre location.

Now, Aptech students can study on-the-go, right from their mobile phones!
Download Onlinevarsity, our learning app, that gives you instant access to interactive ebooks, video tutorials, chat with experts, industry articles, blogs & group discussions.