courses
Aptech Certified in Tourism and Hospitality Professional
This course prepares you for a successful career in the tourism & hospitality industry.
By 2028, over 3 crore international tourist arrivals are expected in India annually.** According to a report published by IBEF, the domestic travel revenues are also on the rise. Every tourist requires the assistance of trained and skilled professionals to manage their accommodation, travel, food and beverage services, and entertainment facilities. With these demands in mind, Aptech has designed a complete, in-depth course in tourism and hospitality.
On completing this course, you can work in prestigious hotels, resorts, airports and travel companies.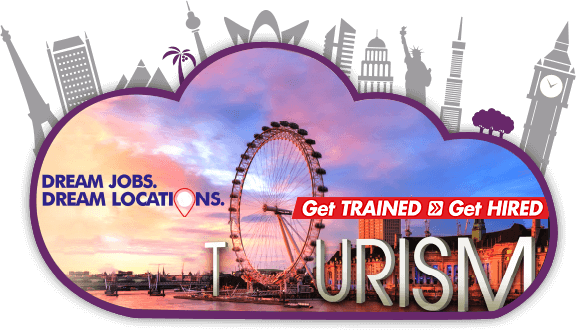 Course Duration: 12 Months*
| | | |
| --- | --- | --- |
| | Course covers | |
This course combines classroom learning and practical sessions to make you job-ready. You will be trained in all aspects of tourism and hospitality – from guest service and accounting to housekeeping and F&B preparation.
Customer services
Travel desk
Travel & tour operations
Fares & ticketing
Computer reservation system
Reservation desk
Guest services
Housekeeping services
Housekeeping management
Accounting
Food counter -services & sales
F&B services
F&B preparation
Hygiene & safety
Spoken English-pre-intermediate
Business communication
Presentation & communication skills
Grooming skills
Personality development
Interview skills
| | | |
| --- | --- | --- |
| | How to join/ eligibility | |
To join this career-building course, you need class 12 or 10+2 in Arts, Science, Commerce or any other field. A 3-year diploma in engineering or other field, from a state board of technical education, is also accepted.
| | | |
| --- | --- | --- |
| | Course Highlights | |
Acquaint with demographics and culture of popular Indian & international tourist destinations
Understand how the travel agencies work
Identify the principles that govern foreign exchanges
Learn to calculate airfares and classify them
Learn all aspects of hotel management – including staffing, departmental organisation, financial performance & operations, and menu planning
Improve your communication & soft skills. Understand & practice grooming etiquettes required for jobs in the hospitality industry
Get job placement assistance#
Quickly complete the course using fast-track option
| | | |
| --- | --- | --- |
| | Job Roles | |
Reservation Desk Executive
Food and Beverages Service Manager
Facility Management Executive
**Source - WTTC Travel & Tourism Economic Impact 2018 report
#Disclaimer: We do not assure or guarantee any job placement. Placement shall be at sole discretion of the recruiter after undergoing
interview process and meeting their specific requirement of graduation, if any.
*Note: Duration may vary based on course & centre location.

Now, Aptech students can study on-the-go, right from their mobile phones!
Download Onlinevarsity, our learning app, that gives you instant access to interactive ebooks, video tutorials, chat with experts, industry articles, blogs & group discussions.