What's new?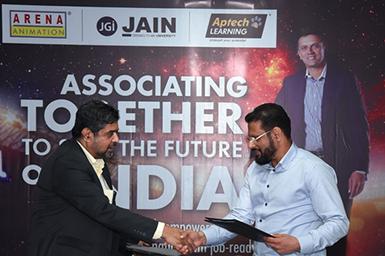 Aptech & Jain (Deemed-to-be University) Offer Dual Certification Programs for UG Aspirants
Aptech Learning, the pioneer in education & skill-building since 1986 across various industries, join hands with Jain (Deemed-to-be University). This strategic association offers dual certification to students, wherein the students in Bengaluru & Jharkhand get to be a part of Aptech Learning's skill development certification programs as well as Jain University's degree offerings.
With this, the program aspirants will complete a University degree qualification, and acquire industry-relevant skills, which will enable them in obtaining lucrative employment.
The competencies taught will be in 'industry-ready' sectors of employment such as:
Digital Technologies
Security and Forensic
Networking and Infrastructure Management
Airport Terminal, Hospitality Management, Retail, Banking, Financial Services and Insurance (BFSI)
Commenting on the association, Anil Pant, CEO & MD, Aptech Ltd. said, "Indian Education and its stakeholders shall forever be enriched with associations that add value to students to create a richer environment for their professional exposure, subject understanding and opportunity to add value to their employment. I believe the coming together of two large players such as Aptech Ltd.-often referred to as the 'enrolment to employment' company and Jain (Deemed-to-be University), a devoted institution par excellence, will be very beneficial."
Dr. Chenraj Roychand, President, Jain (Deemed-to-be University) said, "I appreciate Aptech's dynamism, clarity, and their adaptability to changing times. Together we see that we need the skill, innovation and vocation in today's world. I think that we, being at the forefront of providing education, have the responsibility to contribute to the future of the country and its development by impacting young minds. At Jain (Deemed-to-be University), we synergize to develop students' ability, and transform them into ideas that the country needs."