What's new?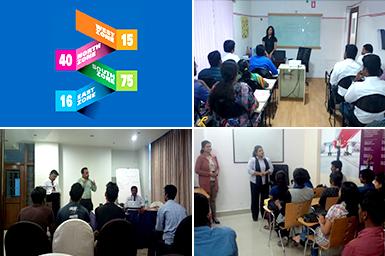 146 Aptech students get job placements in top companies in October 2014
Big names such as Jet Airways, Go Air, Indigo Airlines, Trident Hotels, Air India, Airtel & Cleartrip make job offers to Aptech students
Aptech Aviation & Hospitality Academy has an excellent track record of helping students find their dream careers. In October 2014, 146 students of Aptech got job placements with top companies in the aviation, hospitality and retail industry. 40, 15, 16, and 75 students were recruited by companies located in the North, West, East, and South of India, respectively. 
Aptech's dedicated Placements Team helped students get job placements in major companies including:
 
North India
Buddy Retail
BWFS
Cambata Aviation
Celebi
IGT
Indigo Airlines
SpiceJet
West India
Airtel
Alganim Travel
Cambata Aviation
Centrum
Cleartrip
Convergys
Go Air
Indigo Airlines
Mantra Fitness
Sutherland
Tab Cabs
Tata Docomo
Titan Restaurant
Wipro
East India
AIATSL
Barate Travels
Centrum
Indigo Airlines
SpiceJet
The Park, Kolkata
Trident, Hyderabad
South India 
AISATS
Air India
Air Pegasus
Bhadra Aviation
Calicut Airport
Cambata Aviation
Centrum
Globe Ground India
Hotel Dreams
Hotel Royson
Immanuel Aviation
Indigo Airlines
Jet Airways
Menzies Bobba
Trivandrum Airport
Universal Aviation
The companies that recruited the highest number of Aptech's students in October 2014 are: AISATS, Cambata Aviation, Indigo Airlines, Celebi, IGT, Globe Ground India, and BWFS. 
Student counselling at Aptech
Aptech frequently conducts career counselling for students at all its education centres across the world. This helps students set appropriate career goals, and identify and work on their weak areas so as to become better candidates for recruitment. Aptech's student counsellors conduct follow-up sessions to track students' progress, and see to it that they continue to develop their skills. 
Career & placement seminars at Aptech
Aptech conducts career & placement seminars regularly across all its centres.
Topics covered under these seminars include:
Jobs & career options in the aviation sector
Recruitments in aviation and allied industries, in specific locations and worldwide
Various job profiles, career paths, and hierarchy across companies in aviation & hospitality sector
Industry-specific information and latest trends in the aviation sector
Companies that recruit students from Aptech Aviation & Hospitality Academy
For each location, Aptech conducts seminars to improve and develop students' abilities and to make them more attractive to recruiters. Experts from companies that often recruit Aptech students also visit the centres, and speak to and interact with students to help them understand the industry needs and requirements.