Aptech Aviation Academy centre at Old Padra Road, Vadodara
Aptech has a long-standing presence in Gujarat. Located at Old Padra Road, the Vadodara centre is close to the railway station, bus station & the Ahmedabad-Vadodara Express Highway. This makes it a popular choice for students in and around the city. The centre has well-equipped classrooms with high-speed Internet facilities.

The faculty is well-trained. They make students job-ready through industry-relevant curriculum, by conducting communication classes, case studies, grooming sessions, and mock interviews that help develop their personality. In addition, the centre also brings in guest lecturers from the industry to conduct special training sessions for the students. Student performance is monitored closely to ensure that they are ready for a career in these demanding sectors.

Aptech Aviation Academy prepares students for successful careers in aviation, hospitality, travel & tourism, and the retail industry. The Academy has training centres across cities & towns in India.

Aptech Aviation Academy centre:
302-B, Turning Point,
Old Padra Road,
Vadodara, Gujarat
Contact: 0265-2357295/ 2973490
Highlights of the Vadodara centre
Well-equipped classrooms, a friendly atmosphere, skilled faculties, and individual attention are just some of the benefits that students enjoy at the Vadodara centre.

The Academy also provides complete access to Onlinevarsity, Aptech's learning app, where students get access to exclusive online learning material, e-books, and other facilities like tutor chat, video tutorials, blogs & articles, relevant to the current practices and requirements of the industry.

For job placements, the Vadodara centre conducts special role-playing sessions and training in the best practices followed by the industry. This creates greater awareness regarding the industry. Students also attend sessions about presentation skills and resume-writing, and attend mock interviews to prepare for real-life job scenarios.

Interactions with industry stalwarts like Santosh Bakshi (in-flight crew training manager, SpiceJet), Shoib Jethwa (security executive, IndiGo Airlines), and Rujul Shah (electronic & communication officer-Class 2, AAI, CSIA) prepares students better to face career challenges. Organisations like IndiGo, Jet Airways, GoAir, Air Costa, Hotel Taj, Hotel Crown Plaza, Cafe Coffee Day, Hotel Lalit & Air India have recruited students from this centre.

The Academy realises that having fun is also an important aspect of all-round development. The Vadodara centre regularly organises student events like picnics, quiz competitions, Christmas Party, Teacher's Day, that allow students to let their hair down & relax.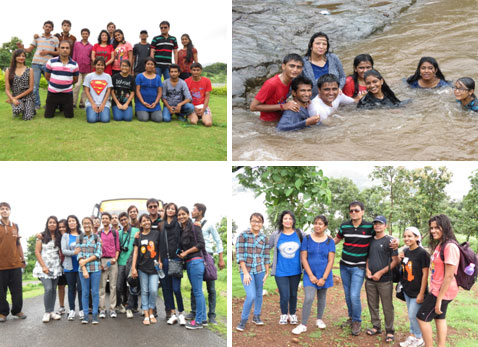 *Disclaimer: We do not assure or guarantee any job placement. Placement shall be at sole discretion of the recruiter after undergoing interview process and meeting their specific requirement of graduation, if any.
Student speak:
Tilak Joshi, who is pursuing aviation course at Aptech Aviation Academy, Vadodara, says:
"I wanted to be a part of the aviation industry. But I wanted to join a course that will also teach me professionalism, discipline, and dignity. Aptech's aviation course gave me all this and helped me to explore my potential. I have always got complete support from faculty members to achieve my dreams. Aptech gave me the opportunity to work with Air India & learn on the job. This exposure helped me build my confidence, as do the personality development & grooming sessions. Aptech provides interest-based pathways to learning to all its students."

Paresh Desai, who is pursuing aviation course at Aptech Aviation Academy, Vadodara, says:
"The faculty and counsellors at the centre are very helpful & inspiring. Before joining the course, I sat with Aptech counsellors to understand the course & the career opportunities. And they encouraged me & gave me the confidence to achieve my dreams. Regular activities at the centre & continuous support from the Centre Head help us build our personality. Faculty members have a lot of industry knowledge and are very cooperative. Regular industry visits & grooming sessions have made me more confident & have helped me build leadership qualities. They also conduct mock interviews that prepare us better for the real situation. Aptech helped me to discover myself."

Aptech student? Here's your chance to brag about how great your centre is. Email us at digitalsolutions@aptech.ac.in & we'll showcase your centre right here, on the Aptech Aviation official website!