Aptech Aviation Academy centre in Andheri, Mumbai
Since its inception in 2007, the Aptech Aviation centre in Andheri West offers training in various facets of aviation and hospitality. The centre is conveniently located within 5 minutes walk from Andheri railway station, and 7 minutes from Andheri metro station. Experienced faculty and good infrastructure with well-equipped classrooms encourage students from various parts of Mumbai to join this centre.


Positive attitude, confidence, enthusiasm and sense of professionalism – these characteristics are essential to be a part of the aviation and hospitality industry. The Andheri education centre grooms students and helps them achieve these characteristics, so they can stand out from others when applying for jobs.


Aptech Aviation Academy centre address:
Unit no. 201/202, Kohli Villa
Next to Shoppers Stop, S.V. Road
Andheri West, Mumbai
Contact: 022-67103738, 67103736, 67103739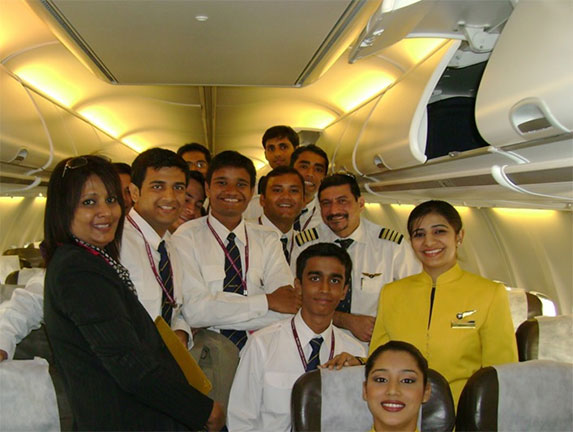 Highlights of the Andheri centre:
1000+ students have successfully completed their courses from the Aptech Andheri centre. Here are a few reasons why they chose Aptech:


Experienced faculty
Well-trained faculty share their insights and the knowledge they gained through years of experience. They use up-to-date course curriculum for all training programs.


State-of-the-art infrastructure
The Academy conducts training sessions with the help of LCD projectors, in specially created mock in-flight training rooms that resemble the interiors of an aircraft.


Persona management & grooming
With the Academy's persona management training, students develop confidence, soft skills and professional looks to make the right impression. There are separate grooming rooms at the centre, for male and female students. With virtual makeup software, the faculty helps students choose the best makeover before they head to the salon. They also give personalised grooming advices to each student, and conduct practical training sessions on hair & makeup.


The centre has tie-ups with Naturals Lounge and Liz Beauty Parlour, so the students receive beauty services from professional makeup artists and hairdressers at highly discounted rates. The Academy also arranges dental care sessions for the students with Dr. Shamika Dunakhe of Candid Smiles, a well-reputed cosmetic/ aesthetic dentist.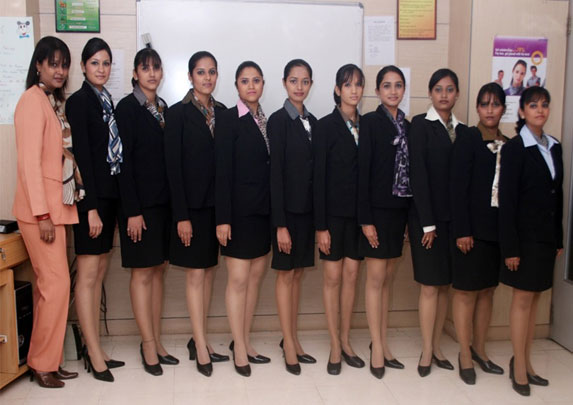 Portfolio shoot
The Andheri centre hires a professional photographer for students' portfolio shoot. A good portfolio plays an important role when applying for jobs in the aviation & hospitality industry. Students receive advice from the faculty on modelling techniques, facial expressions, and posing for portfolio shoot.


Training by industry experts
Apart from regular classroom training, the Academy organises special sessions by industry experts. Anthea Rodrigues, Brand Ambasador of Schwarzkopf Professional, who visited the Andheri centre, conducted an exclusive training session on 'grooming' for students. With a session on 'skin treatment', Dr. Sanjay Fernandes, a renowned dermatologist in Mumbai, helped students learn about intensive skin care. Another notable session was on 'aviation security', by representatives from COSCA, an organisation that is connected with the Bureau of Civil Aviation Security (BCAS).


Job placements
The faculty at the Andheri centre conduct mock job interviews and provide feedback to students on their performance. This helps students improve their interview-handling skills.


Aptech has an excellent reputation for creating job-ready professionals for aviation and hospitality industry. Some of the top industries and companies* in which students of the Andheri centre received job placements include:


Aviation industry:
Korean Air
Etihad Airways
GoAir
Indigo Airlines
Jet Airways
Indian Air Force
Saudia Airlines
Celebi Nas Airport Services
Livewel Aviation Services
GVK
Cambata Aviation
Glasgow Airport
Dubai Intenational Airport
Lion Air
Airports Authority of India (AAI)

Hotels & hospitality industry:
ITC Maratha
Orchid
Hyatt
Ambassador flight kitchen

Others:
AVA Merchandising Solutions
DFS Duty Free
Cox & Kings
Union Bank
JP Morgan
Tech Mahindra

*Disclaimer: We do not assure or guarantee any job placement. Placement shall be at sole discretion of the recruiter after undergoing interview process and meeting their specific requirement of graduation, if any.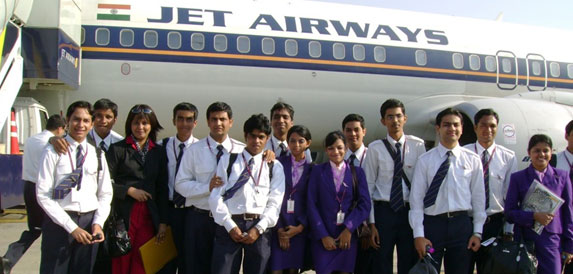 Event management opportunity
Aptech conducts various outdoor events year-round. Students are given opportunities to manage these events - from its conception through to execution.


Activities at the Andheri centre
Students celebrate festivals - including Holi, Diwali and Christmas at the centre. The Academy organises various events and competitions for students during Independence Day, Children's Day, Women's Day, and Valentine's Day, to bring an element of fun into their learning experience.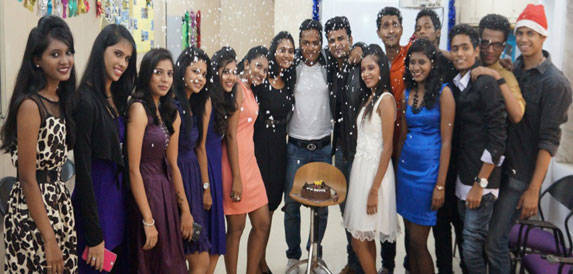 Availability of wide range of courses, student-friendly environment, and flexible course timings are a few other factors that attract students to the Aptech Andheri centre.
Student testimonial:
Aptech changed my life. The faculty helped me become more confident and assertive. I am very passionate about the industry now.

Ashwin V B
Concorde Group

Aptech student? Here's your chance to brag about how great your centre is. Email us at digitalsolutions@aptech.ac.in & we'll showcase your centre right here, on the Aptech Aviation official website!